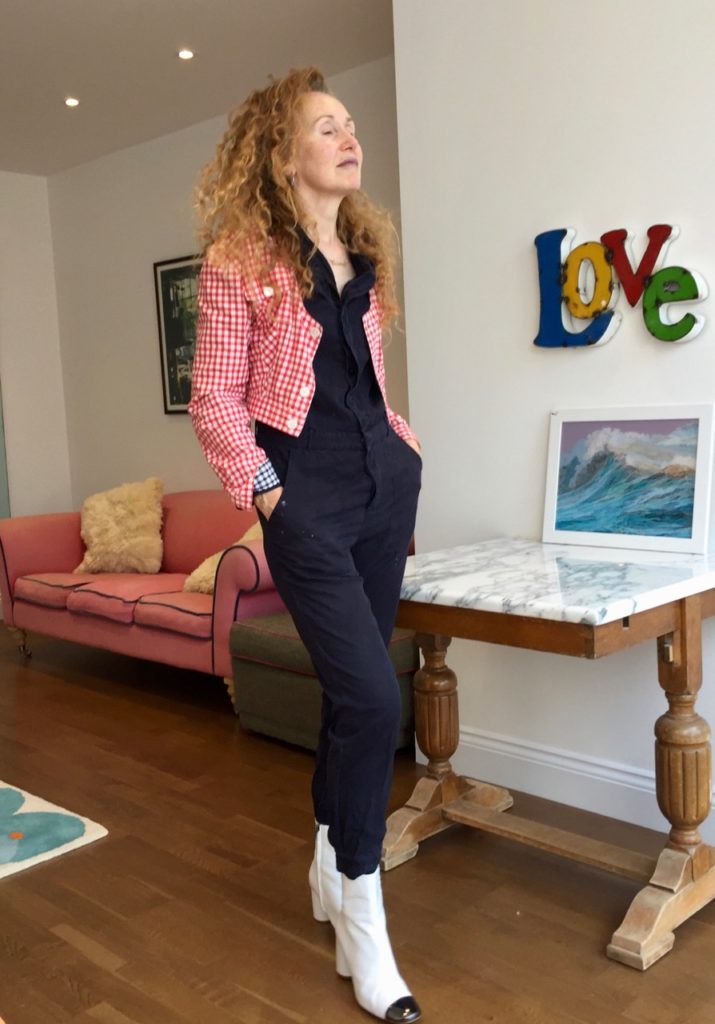 Just so's you know;
Gingham is a medium-weight balanced plain-woven fabric made from dyed cotton or cotton-blend yarn.[1] It is made of carded, medium or fine yarns, where the colouring is on the warp yarns and always along the grain (weft). Gingham has no right or wrong side with respect to colour.
A question that I need you to answer is; When does an every day checked shirt, dress, tablecloth become a Gingham checked shirt, dress, tablecloth? Haunting.
Literally checking out. Forget what's trending or 'in' somethings are never out. This is a story of two halves; the gingham I already have and the Gingham I want to have. Off I go, little Ging-er that I am.
My reversible bomber/jean jacket type-y thing. With me since I was very little. At least 25 years. How cool is that? No Wardrobe culls here at Mrs V's house.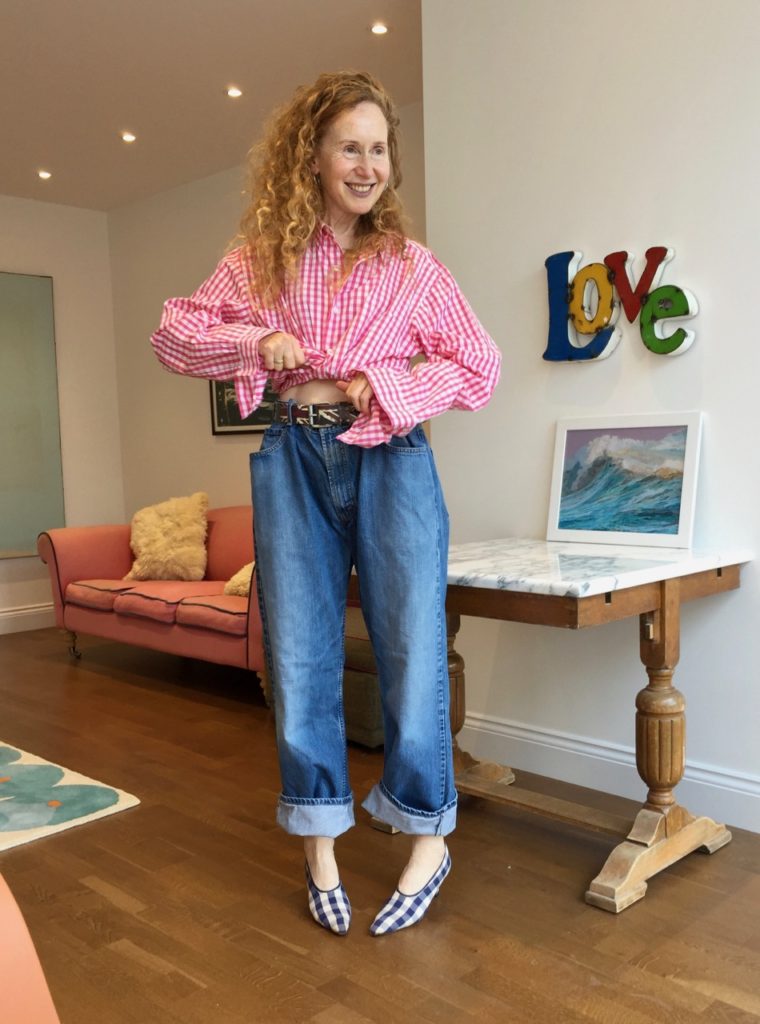 Marry me, I think I love…your pink gingham Ralph Lauren shirt.  Pick a partner  with great taste and get all the advantages of literally rummaging through their drawers and borrowing, not buying 'boyfriend wear'. The heart and soles of my marriage, my 23 year old Gingham, wedding shoes. I'm loving being my own fashion visionary. See above AND below.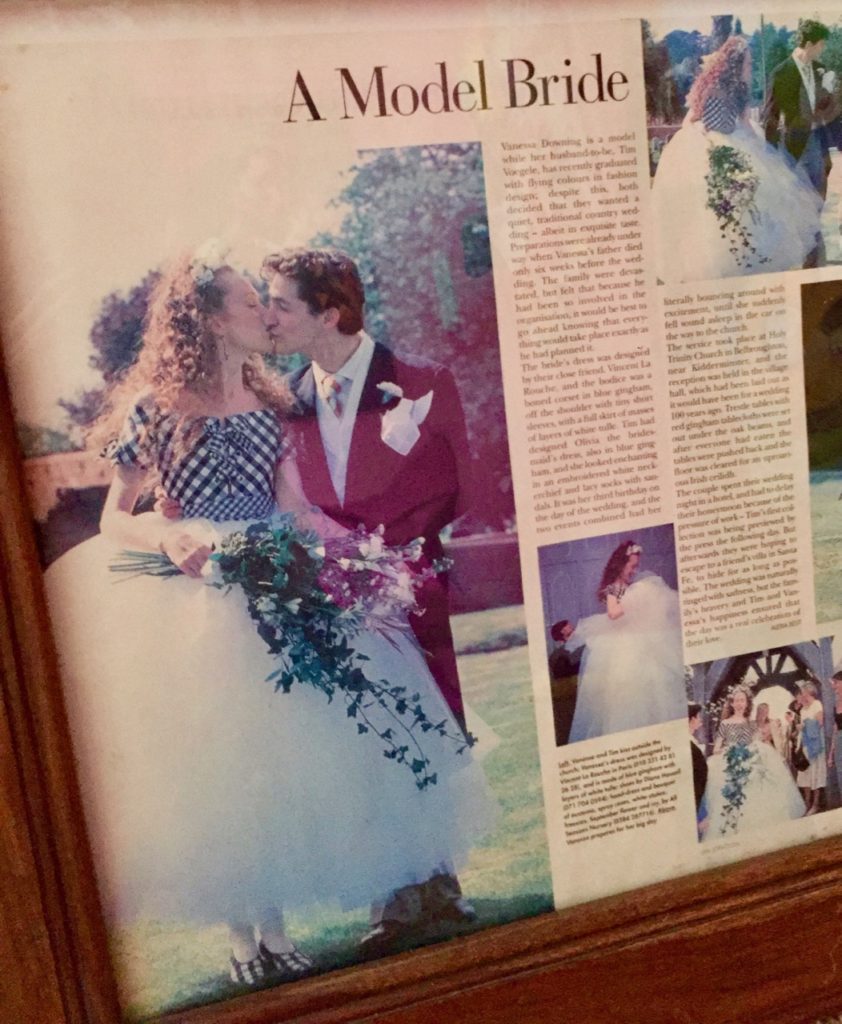 My dress was Haute Couture designed and made for me by Vincent LaRouche, now Creative Director at Lafco New York, thereby having made me look heavenly , now makes me smell celestial too. My shoes were customised with the same Swiss Cotton Gingham as the Corset of my dress and made by Diane Hassall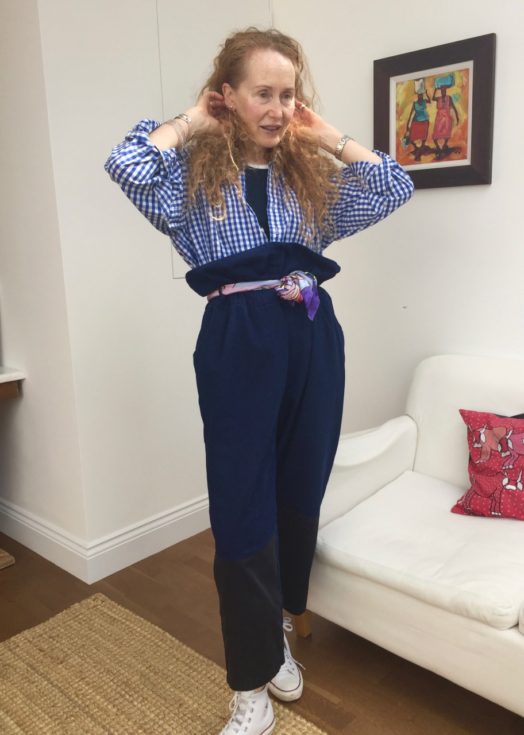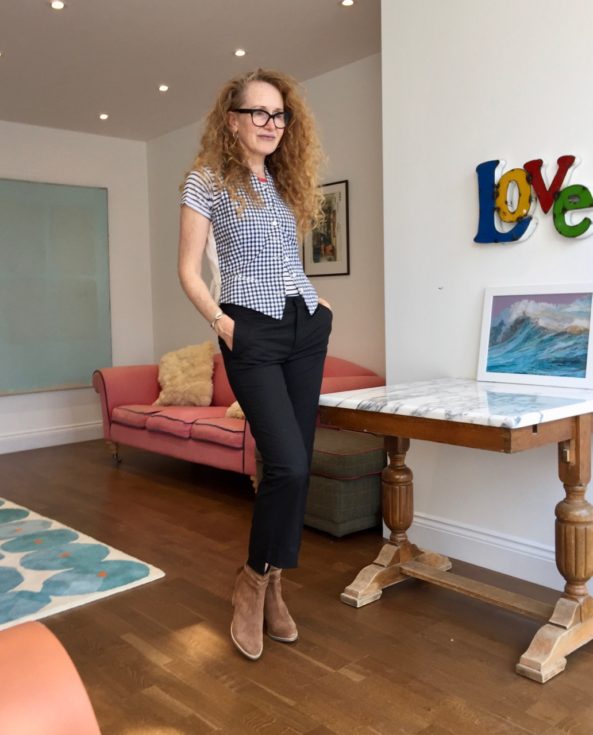 If you want to be on the  selvedge side of this style statement, there are no encrypted passwords preventing you accessing the trend code for Gingham. The Press Shows are our window before the shop window. They are your cue to decide whether you're in or you're out with the trend. If you're in, there are two choices; How much do you like it conjoined with how much do you care to spend on it?  Flinging this classic little cheeky check at you now and hoping that some of it will stick.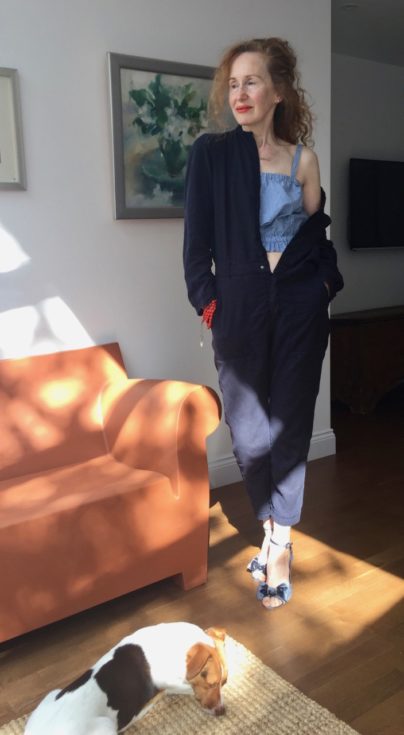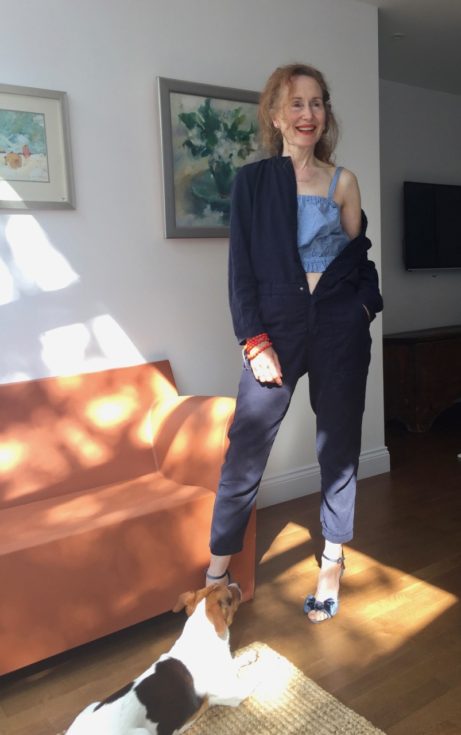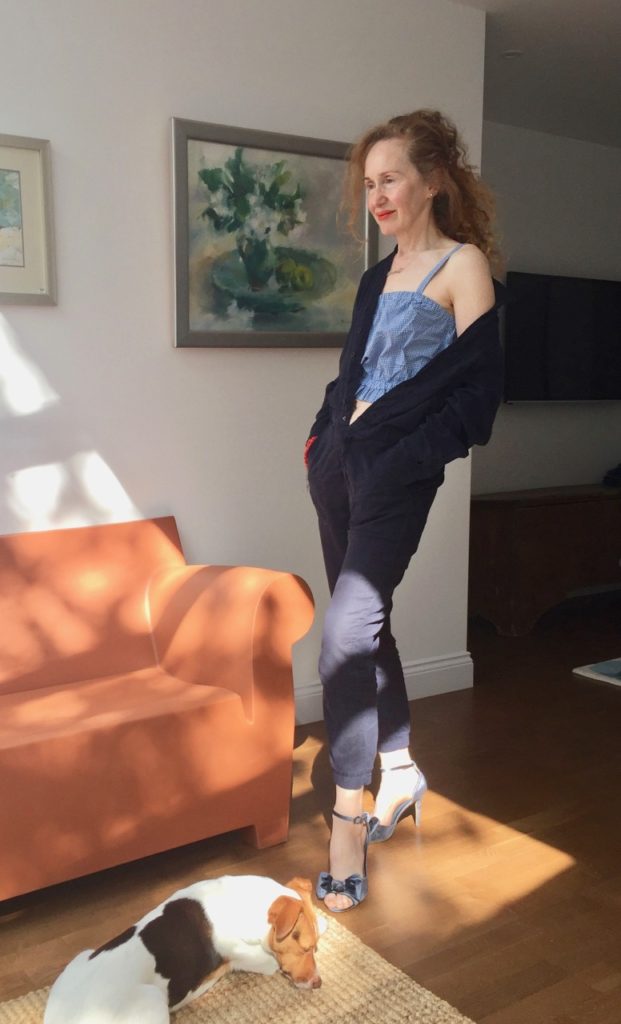 Don't look at my previous season's Topshop jumpsuit, you can't have it. Pull focus instead on the little nicety peeping out from under it. I swear to God that this top will rip through the red traffic lights of your wardrobe by jumping on top of dresses, t-shirts,jackets  and shirts, and getting under dresses t-shirts, jackets and shirts. Thank you H&M for getting it right, style + price. Only problem with this item is that it's not available online which may mean that stocks are low. I suggest you put your running shoes on. If you think that it has  restrictions, well doesn't everything ? Anyway, I have a response…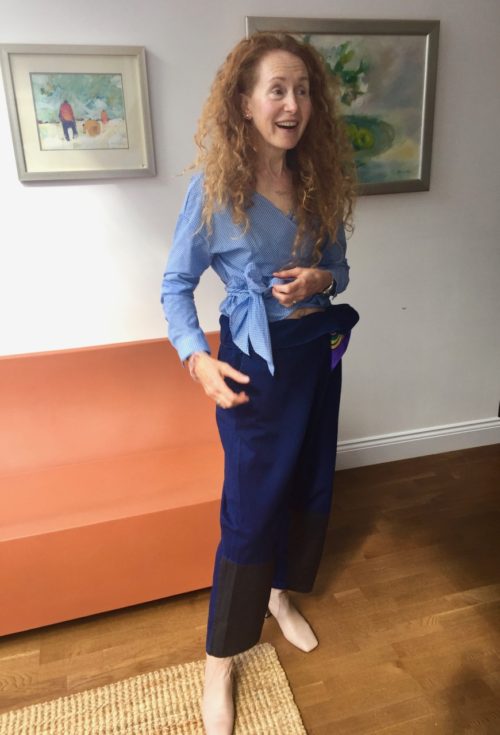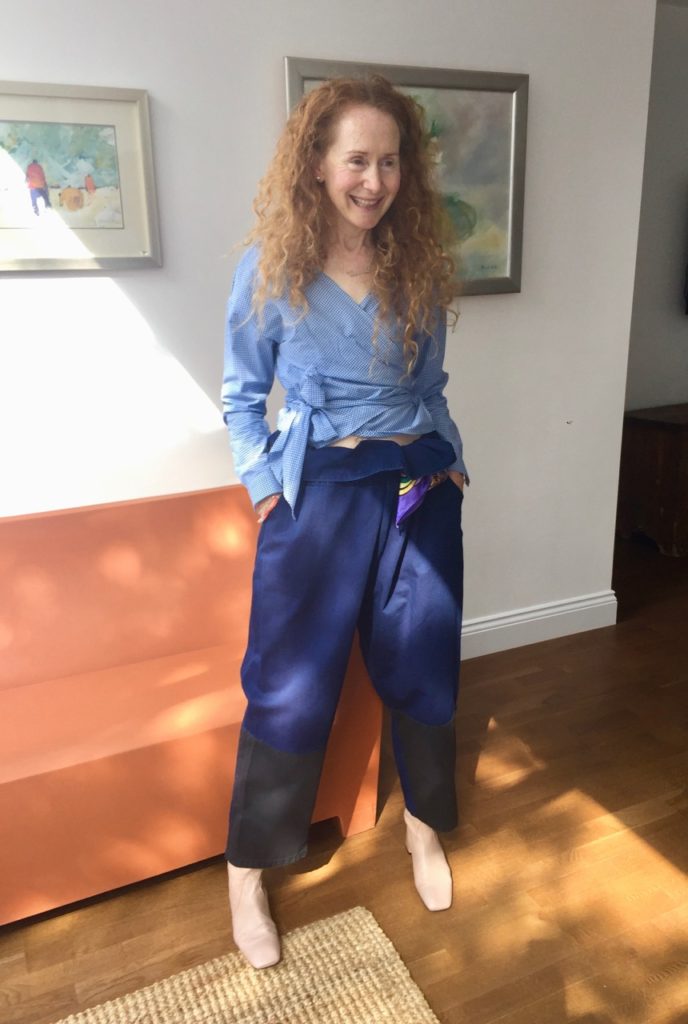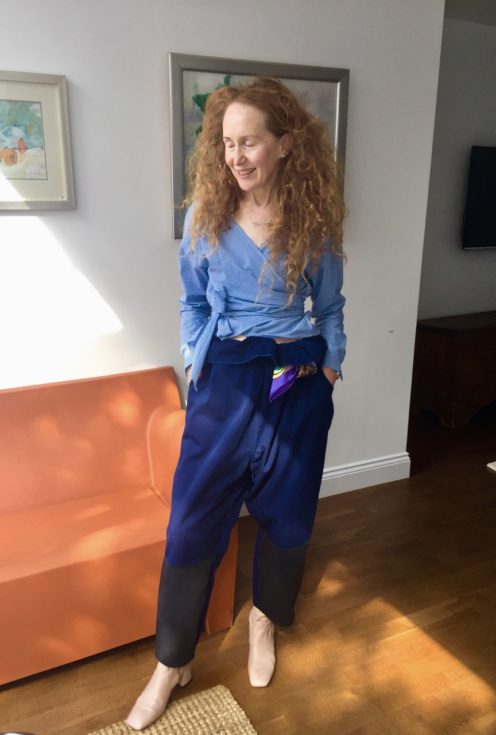 H&M Blue Gingham Wraparound Shirt £ 29.99
This top is the Bee's and the Dog's. Truly tremendous in it's drop shoulder and swooping hem tailoring. You can tie it tightly to show off or mask your assets ( I have quite wondrously achieved both objectives ). Conversely you can do the same with tying it loosely. Marvellous. Merci H&M again. I'm wearing Monki massively enormous, cinched waist trousers bought last season but how very this season. Btw, I'm wearing both tops in a size 12.
Now loads of other Gingham stuff, and not nonsense.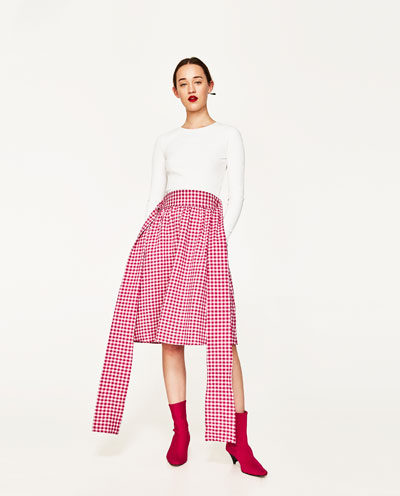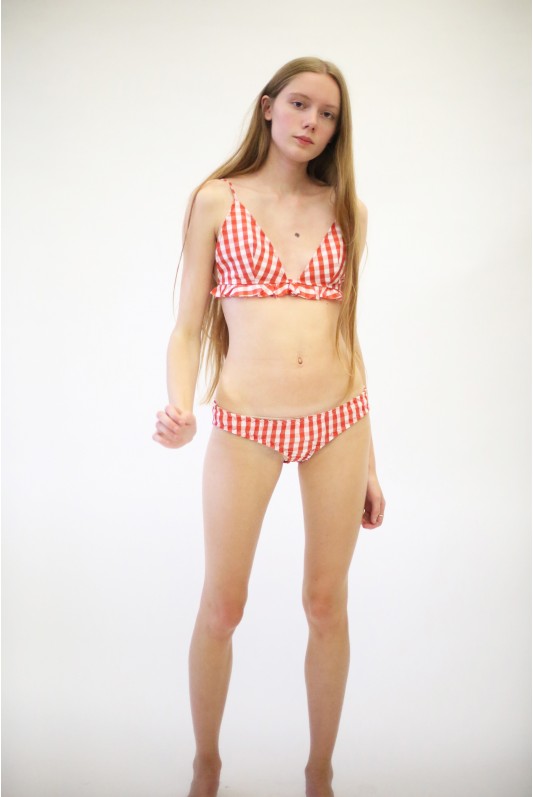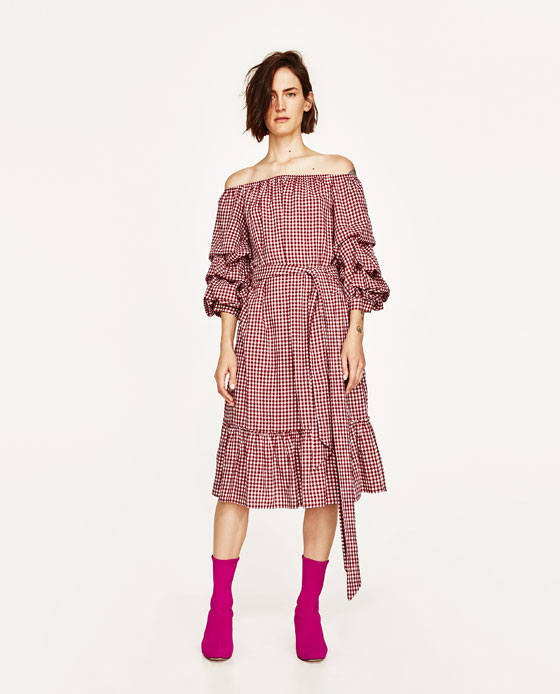 Zara Fuchsia Gingham Skirt £25.99 Marques Almeida Orange Gingham Bikini  £115  Zara Red Gingham Dress £39.99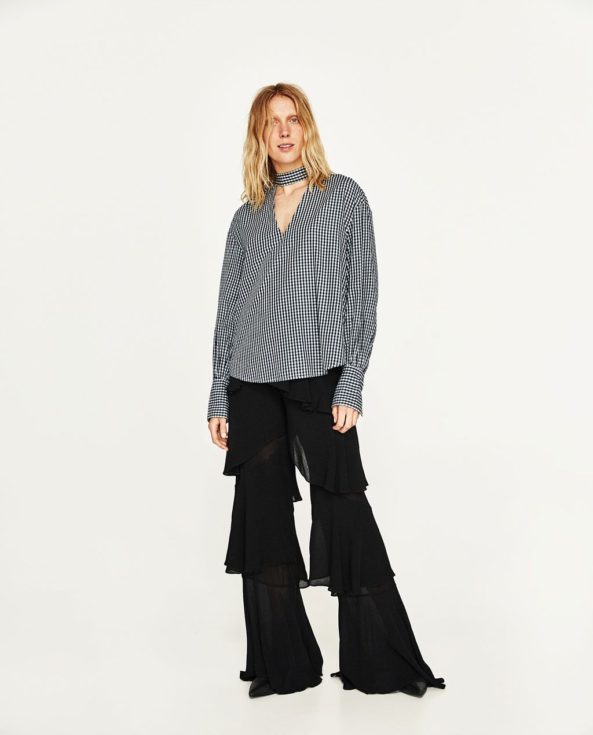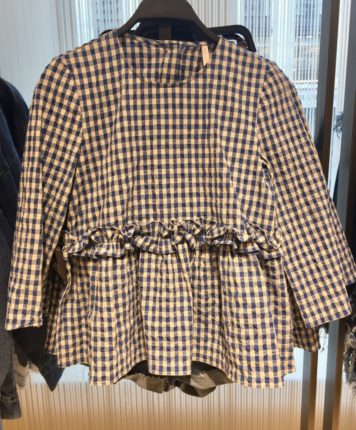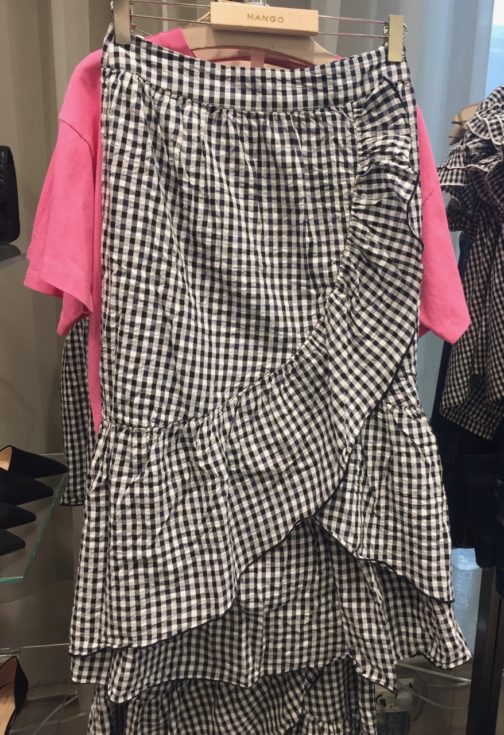 Zara Black Gingham Tunic  £12.99  Zara Blue gingham Smock  £25.99  Mango Black Gingham Skirt £25.99
I have gone entirely demented whilst writing this post (Easter, Easter Egg Hunts, Guests, Spring cleaning, is it a movement or a phenomenon? complete immersion into all three daughter's lives and the ridiculously tiny amount of hours in a day). It feels as though it has taken three decades, however, you're worth it and it's kind of my pleasure.
Go forth and Ging'em