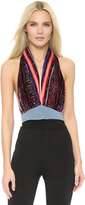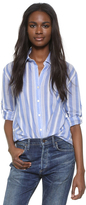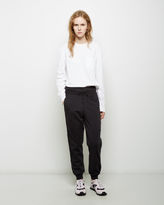 Here is my current wheeze, which creates a fabulous synergy between wardrobe and wallet. Here's the thing, when you shop the sales scrutinise what you can currently purchase that could potentially be a compadre to your winter look. There are so many hybrid items out there at fabulously discounted prices and Mrs V sees no sense at all in clutching on to the last straws of summer clothing, but would rather invest in items that cross the not so great season/climate divide.
Starting with the halter neck top and proceeding in a clockwise direction, these items are perfect examples of winter wardrobe accoutrements;
Rodarte Paisley Halterneck Top  There are a few variations on this theme. My point is that under an evening jacket this is going to seriously take some beating.
Public School Sweatpants  Athleisure is dug in, will transcend seasons and encompasses the 24 hour clock. Try out for the team.
Young Fabulous & Broke  Trending from now onwards until further notice, is the striped shirt tucked in loosely and asymmetrically .
It's a bit exhilarating at least here at The Model Edit headquarters, to experience the thrill of the chase and purchase a frill and some lace and not at naughty prices.