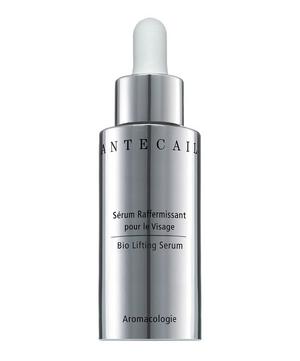 Chantecaille Biodynamic Lifting Serum £198
Those of you with Ermine lined purses, read on. Forever converted and doomed to live in a dustbin, I glow with the epidermis of a post acne apocalypse,  teenager. I care nothing that to sustain my newly emerging Skincare habit, my children will never eat again, I am seduced and convinced by Chantecaille that their bijou, artisanally created skincare line helps me achieve my best dermal self. Again, for your lives only, I rummage metaphorically through make up and beauty bags of the gurus whose stock in trade these potions are. In this case I have been pointed towards two products from the Chantecaille skincare range. A philanthropic French brand known for using uniquely high concentrations of natural botanicals, Chantecaille's skincare, makeup and fragrances are the epitome of luxury. Their purity of ingredients ensure utter luxury across their products. There are many options for similar products to these, a sort of wannabe mates scenario at a lower entry level, but if you have the means, treat yourself or allow someone else to. I can't imagine for a second that you'll be disappointed . I have used a week's supply of this double act of creams, and am impressed by every aspect really. The serum is potent, kindly lifting and  smoothing wrinkles and and if that wasn't enough, taking matters into it's own hand, broadening it's remit, this Biodynamic Lifting Serum also builds and protects collagen. Awesome, thank you. DNA is repaired with the newest combination of natural stem cells, which is a technicality, but translated, it's shoring up the skin's youthful longevity and all hail that!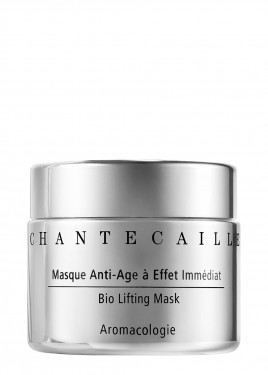 Chantecaille Bio Lifting Mask £140 
This next product trialled by a frizzy, freckly redhead covered in opinionated skin, came portentously packaged in a platinum coloured pot, and was described to me in a conversation with top beauty blogger  Anna Shearer @lefashionfetish  as 'a facelift in a jar' Cue me curtsying.  Chantecaille's soothing Bio Lifting Mask mask virtually irons out the face. Love us some of that. Our, Non? It's so fabulous to have access to people like Anna as ordinarily I wouldn't just take a punt on such an expensive product. Truly industry experts and access thereto, are just divining opportunities. Instagram Idols that I have come across are holding their ground because of their insights and integrity. When you find one that you trust follow them just close enough to avoid a restraining order. Their words are gold dust. Mrs V sobs for the preclusive price point, but simultaneously  and honestly, believes that Chantecaille is a beautiful skincare company using insanely well sourced base ingredients that deliver addictively fine results.
With reference to the 'facelift in a jar' recommendation, rather you go over your skincare budget than under the knife.