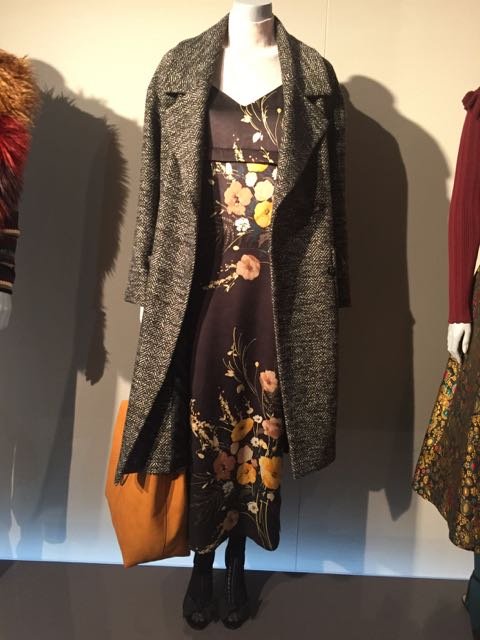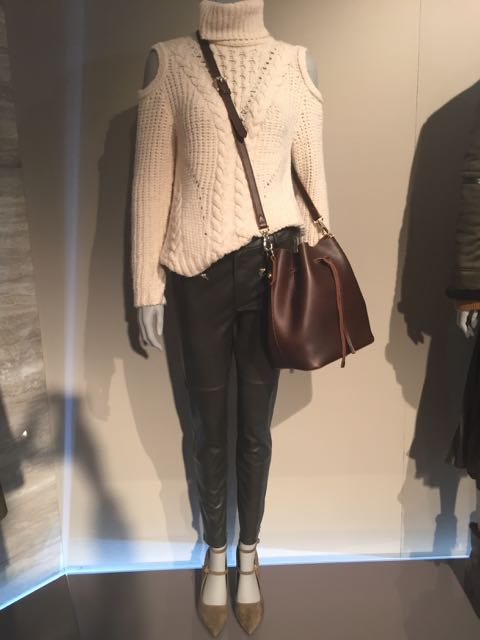 This is a bit of a 'deja vu' post. It has been on your screens before but it was pointed out to me that some of you need a nudge at the appropriate times for designer diary dates. Here is my official metaphorical starter gun going off and now it's up to you to sprint down the high street and through the M&S checkout line. Warning; some of this is new content!!!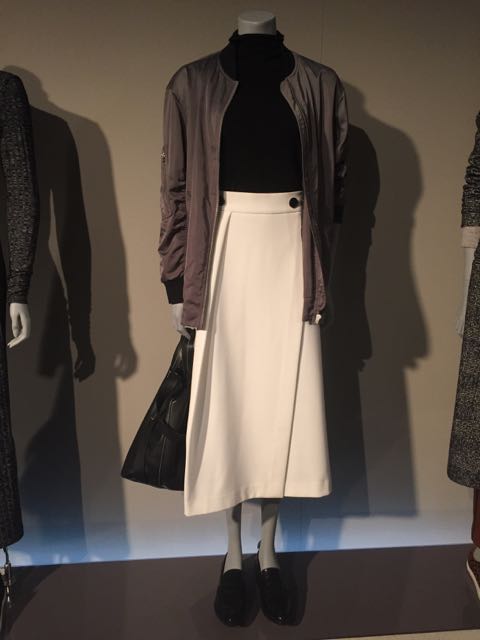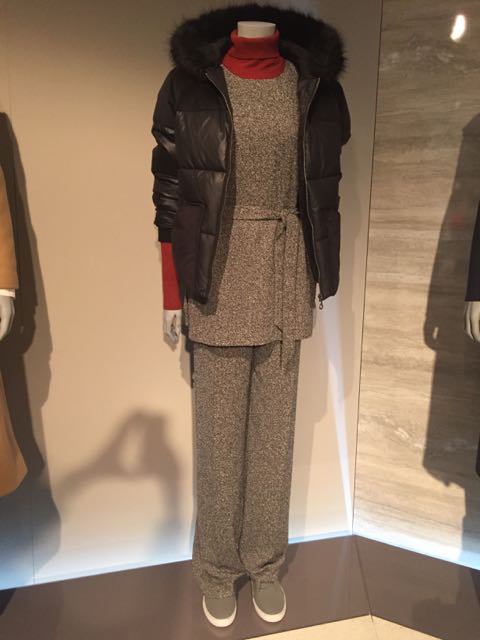 I'm in love with the M&S design studio who have truly, tremendously styled their A/W 2016/17 collection. The clothes are fabulously presented, lip smackingly approachable and owe much of their purchase appeal to the bang-on-trend way in which they're presented. Consider the above suggestion of wool coat, floral boho midi dress and peep toe high heeled shoes that normally wouldn't be seen anywhere without a cocktail. A mix of opposing fabrics, time slots and tones.Thanks are due to 'outside the box' thinking by the M&S style Sherpas.  All of us here at The Model Edit(presently me and Blog Dog Hippolyta Beryl ) love this anachronistic style shove. Not just that, but how about the brown tones featured on the seriously usefully sized  brown leather bag mingled with the colour black appearing elsewhere on the outfit ? Dating back to biblical times, is  black with navy or black with brown a fashion faux pas? It is allowed, always has been and is now positively encouraged. Go there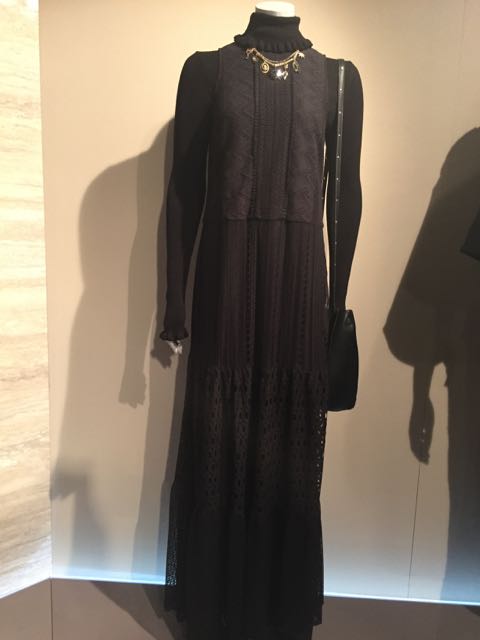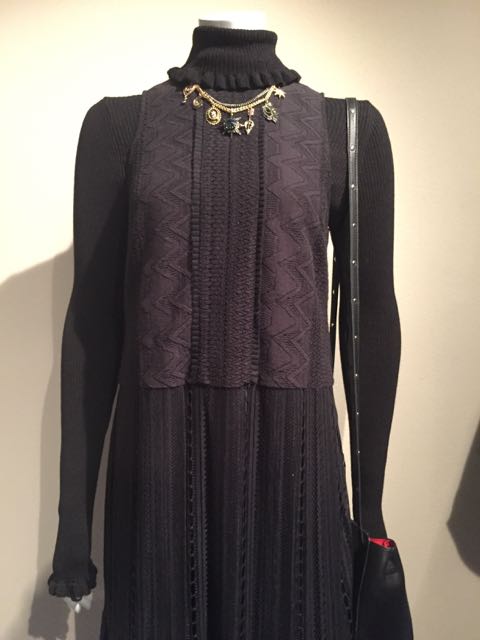 This particularly pretty sleeveless long black evening dress with it's gentle layering, gathering and lace inserts appeal goes to places that on it's job description, it normally wouldn't. Sling a roll neck jumper underneath and you're there, naughty as anything wearing evening clothes in the stark staring daylight. How nice is that? This is not is not going to nudge the EU Referendum off the headline slot, but it may stop you retiring last year's evening dresses for the sake of a black roll neck jumper. I love this juxtaposition. You save money, you recycle and you receive rave reviews because you are riding the trend.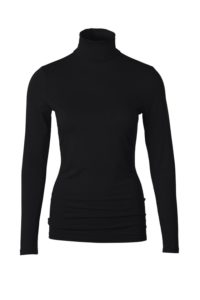 Silky Roll Neck £39
If you'd like a slightly subtle roll neck, I suggest one of my wardrobe wonders, the saviour Silky Roll Neck from my lovely friend Melissa Nicholson's company of go-to basics Kettlewell. I've got a white as well, which I think would look good worn for the same reason.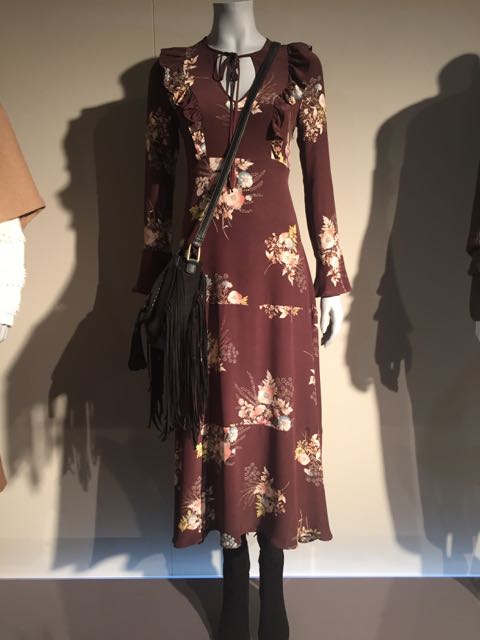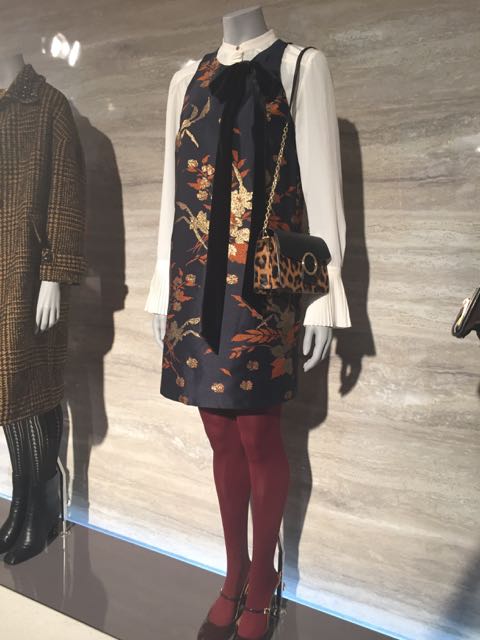 Every outfit has it's handbag friend. Choice a go go. You won't be in free fall or missing that one last accessory that cinches the deal. It's all appearing in a store near you in September. Thing is, we have all the components of a complete wardrobe refit here, and no flags flying to denote it's provenance. Which after all is a good thing. I don't want my clothes to advertise the store where I bought them. I want them to advertise me. M&S are showing real verve and bravery, as it taps into who they know is out there but still leaves a changing cubicle aside for their residual inhabitants. Every woman that will shop a style from here will be taking this brand to it's next base. We've been wondering how long it would be. Wait over.
Here then is the prospect of a self styling reappraisal of fashion preconceptions and permitted behaviour. Your old, can become your new, after a trolley dash around M&S . Round of applause for the M&S styling visionaries and their one-stop-shop suggestions.