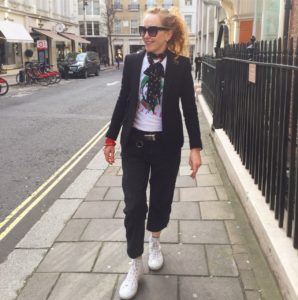 Running around during London Fashion Week so that you don't have to. ( wearing black denim jeans from Zara btw)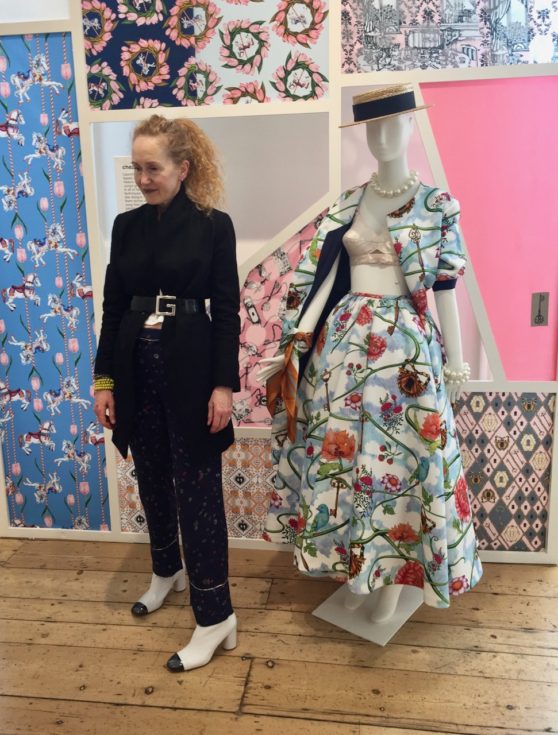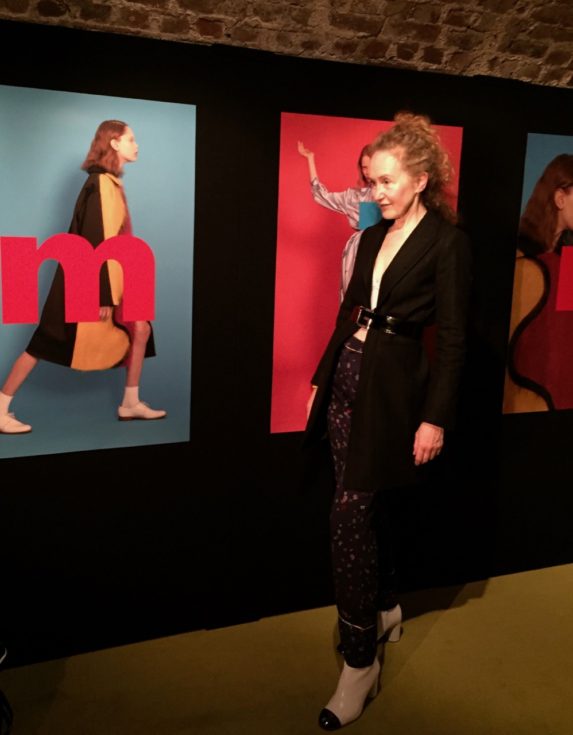 I have been so buzzed and my mojo is so motivated, all due to London Fashion Week. I love the energy that exudes from the pores of the pavement. It's a very positive time in London, and the streets are lined not with fashion victims, rather people of every single demographic seizing the opportunity to present themselves how they'd like to be perceived. All bets are off and all accessories on. Good old London, it's the metaphorical and synonymous style wardrobe of the world. Thanks Nike, we were just doing it before you gave us the permission. Watching the Press shows can be a wistful experience for me because in the past I was astride those catwalks. Worse than me pining for my glory days, there is the terrible Tourettes fiend in my head that wants me to jump up, just as the first pulses of music start and shout so loudly with my horrible voice 'It should have been me' ( circa I can't remember, but sung by Yvonne Fair ) Embarrassing much?
 Girlfriends, I have news. You may need to print this out or at least take notes as I couldn't possibly say this twice, but am not above saying 'I told you so' when we've all arrived at the Style Station having successfully bought out ticket and you are stranded on the platform. We wave our denim clad arms having boarded the Fashion Express to any destination that we like. Climb aboard mates. Denim has it's own invitation to the party, not a 'plus one' anymore. In fact Denim is the guest of honour.
I see some overriding trends but can't fling 'em at you all at once. I'll begin with Denim which, like love, is all around. This utilitarian twill strides stylishly through  every economic strata. It's a chameleon, a scene stealer or at worst a best supporting actor. The reality is that you can and must get it at any cost. Cancel all engagements until you have wedged denim into most every outfit that your 24/7  demands of you. Sucks to be me as I'm not really inventing the wheel here, but I aim to be that niggling voice that just won't let you sediment into low style esteem. Yes we've all got Jeans, but are we wearing them with style and bravery. The thing here dear Squad, is that there is a Milky Way full of naughty and irreverent ways to push the power that denim has in today's style scene. Rip it, fray it, pleat it, ruffle it, expose yourself, cover yourself up, peepholes and cold shouldering are legit statements on the Denim does it better, terms and conditions.
Denim is the great leveller and Mrs V sets you free to roam at large, go wild in the aisles and get your credit cards to manual. You can go high, you can go low. Choose your budget and then choose your piece.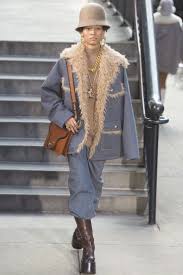 Marc Jacobs A/W 2017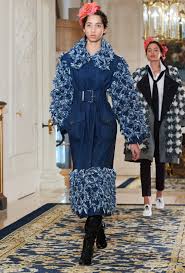 Chanel A/W 2017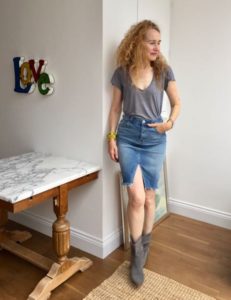 See what I mean?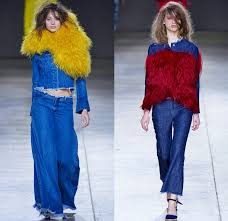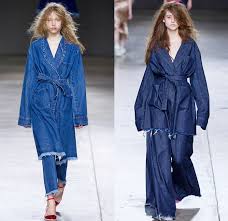 This label is a crush of mine and whilst I can imagine that I've scared some of you. Their disregard for style and tailoring safe havens extend to their use of Denim. It becomes a suit, a shredded, sloppy, swishy trench coat, Oxford bags trouser suit. They ape the denim conventions and are actually sewing and styling the way for us to enter in, a denim ticket will get you there. I'd like you to look carefully and see if you can possibly go there, even just a tiny bit.  Take one piece at a time and imagine pairing and accessorising it with something that you already own. Funny how it becomes less scary isn't it?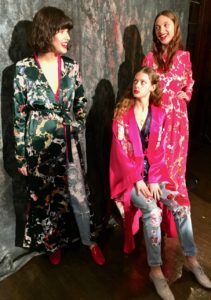 Alice Archer has beautifully sophisticated collections. The refined and rare art of perfect embroidery is Alice's stock in trade. Her women are feminine, heralding the movement that girlish aesthetics are a powerful rebellion. We are to celebrate our femininity and not be stereotyped by it. Little women we are not. Mrs V is very happy with the Kimono and divinely embroidered Jean symbiosis. Where aren't we going with this? Alice Archer clothing is available at The Place London where there are luxury and labels to mash up with your Denim delights.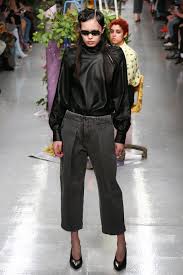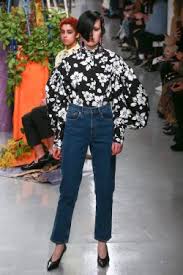 How easy has Ashley Williams made life for you? Nothing untoward here, just the possibility to be 'with it' permission granted by one of the grooviest and fan-followed young designers that ever did book a model. Come on, as I said at the top of this blog, schmooze the suggestions that I've presented here, then run screaming for your wardrobe, just to make sure that you really did hang on to that perfect partner piece for any of the looks parading across my page.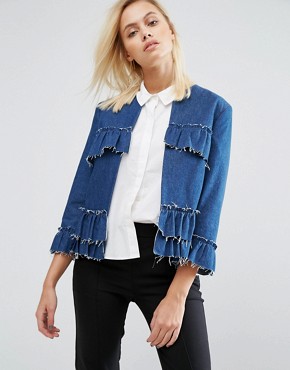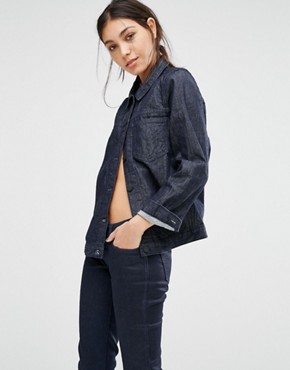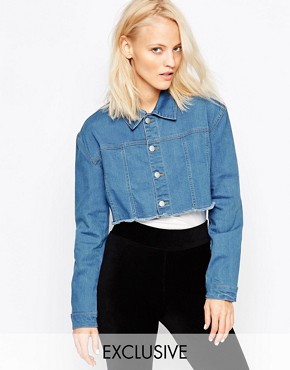 A . Helene Berman Raw Edge Ruffle Jacket £110
B. Levi's Line 8 Boyfriend Fit Denim Trucker Jacket £35 ( mega bargain)
C. Chorus Daydreamer Cut off Denim Jacket £12 ( I'm tellin' ya)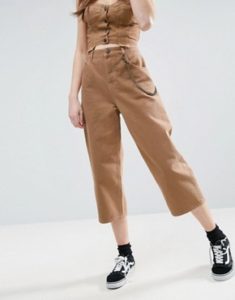 Remember Denim is not only blue…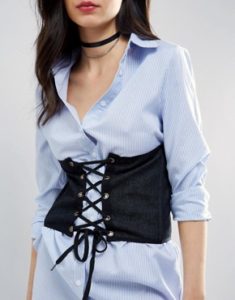 Corsets are us this season, and a Denim corset? Manna from heaven
These little treats are all about the price tag/trend equation and are positively being given away by ASOS at the moment and considering that unless you actually have the grubby habits of a Miner 49er, they will live your life to the full, enjoy brief respite care in your wardrobe from time to time, and then out for another romp…They owe you nothing but a good time.
Go get 'em.