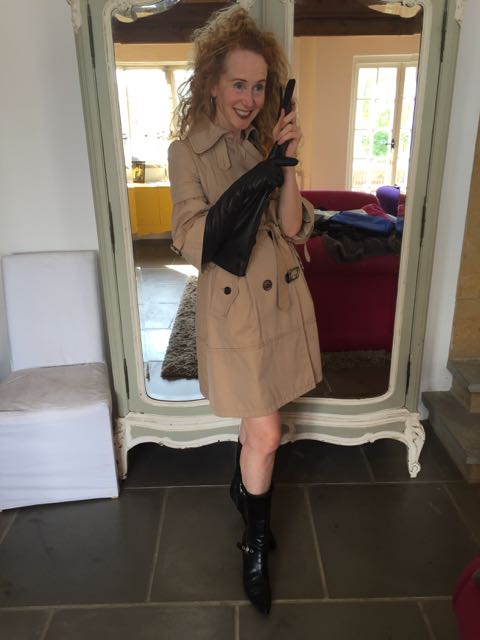 I am now grown up enough to wear elbow length gloves, and because I do love investment buying, my first port of call in the glove department is black leather. Timeless and could take an ordinary outfit over the edge and into huge sophistication and possible style icon territory. I have hovered between two words here to describe my raincoat, and those two words are 'vintage' and 'old'. I'm going with old as I'm hoping that neither my coat or I qualify for vintage just yet. Anyhoo, fact remains that it's not this season's offering from Burberry. You can see that the sleeves are 3/4 length, which to me means that this coat needs accessorising in order to achieve real greatness. Enter my very spiffy 'Kelly' gloves
from Southcombe, a small very bijoux company based based in Somerset since 1847. I do love a heritage family business .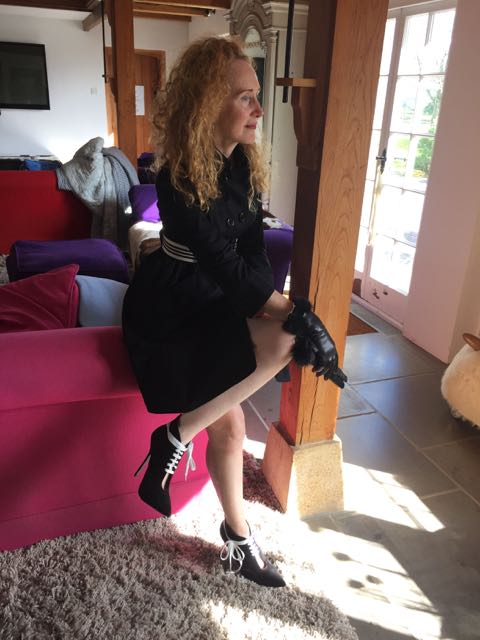 Now we have another old Burberry raincoat, which makes me a very lucky girl to be able to shop from my wardrobe, having invested in some statement/iconic pieces . Actually no applause for me and my style forethought, as they were gifts from an admirer… That said I have remained loyal and they are still in my loving care. And look here at my cosseted little wrists, all gussied up in fur trimmed leather gloves with a nice dangly little drawstring toggle as a detail behind the hand. Properly beautiful little gloves known as Vita from Southcombe, yet again. What more can I say. Both pairs of gloves that I've shown here are adorable, chic and just a little sexy.
My advice is to visit the Southcombe website, as my joy over these gloves is compounded by the quality of the make, lining (silk and leather, respectively), styling and price. Have a look before you decide on who will be caressing your hand and keeping you warm this winter.