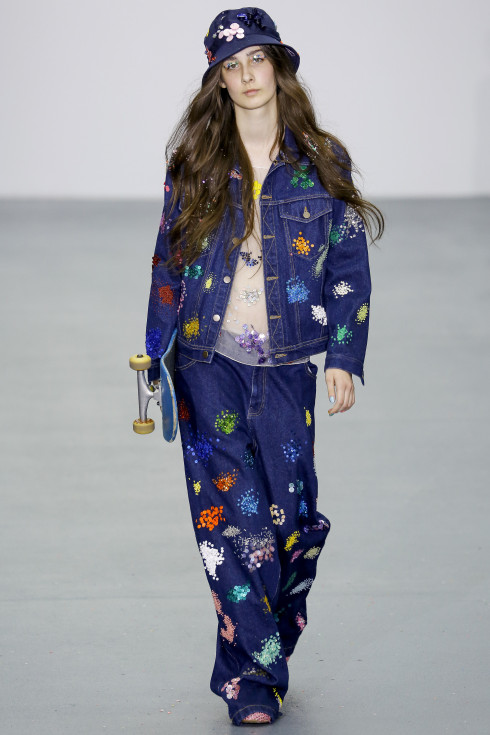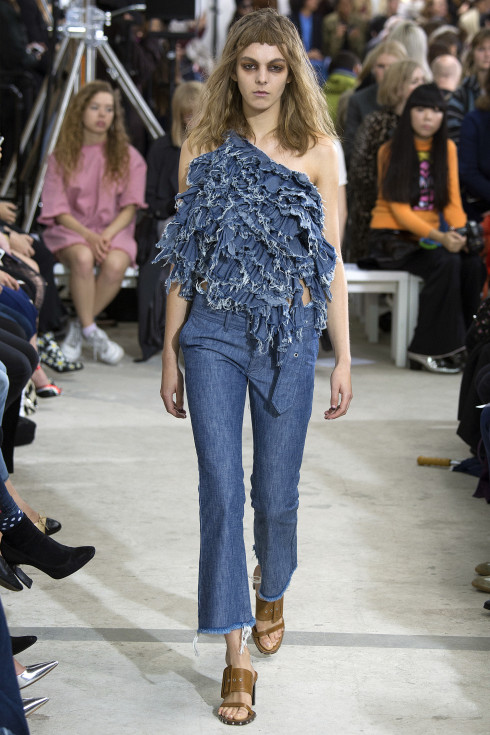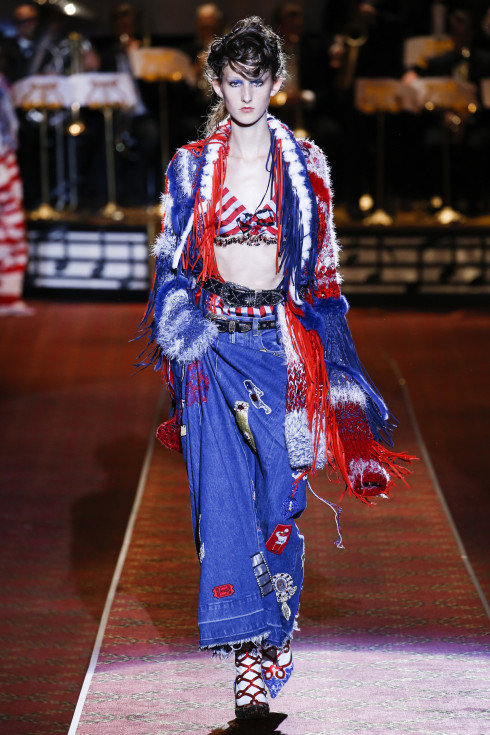 I want none of you to throw stones at me because I've presented you with what you may mistake for the impossible unattainable and unwearable, unless you're a model on a catwalk, blah, blah. That's you not concentrating. There is much to be partaking of out there this season, and themodeledit will be your tour guide for this trip! What I do want from you is applause because I've sat down, sifted and selected some of the overriding Ready to Wear trends for Spring Summer 2016. My pleasure. Have a look and choose how deep undercover you'd like to immerse yourselves in the diaphanous depths of this season's style waves.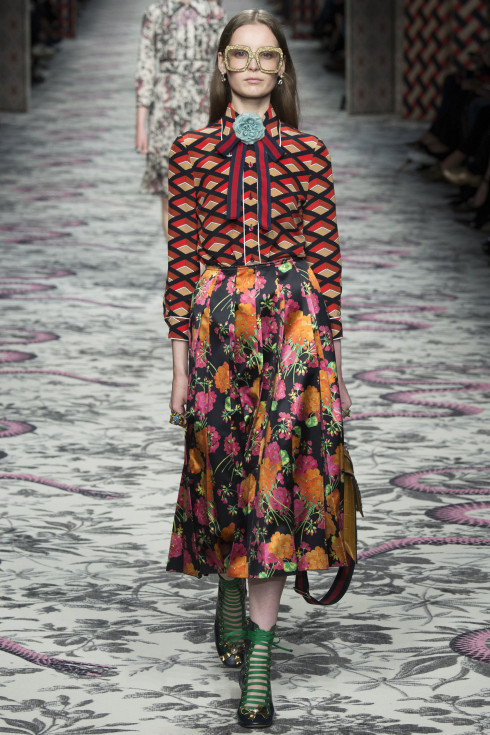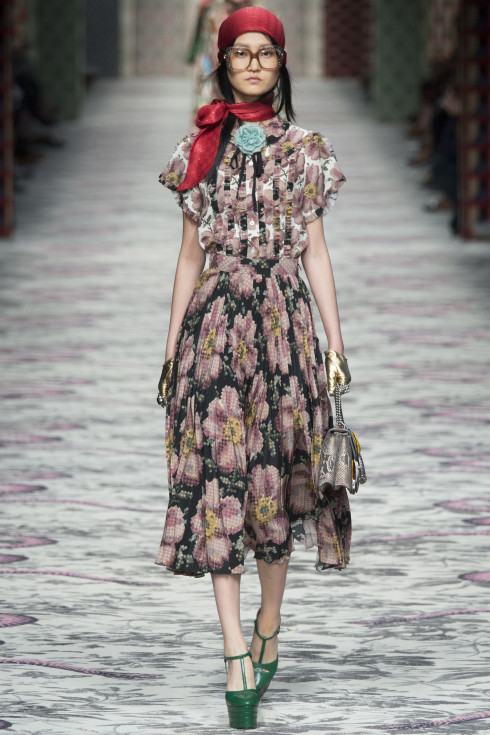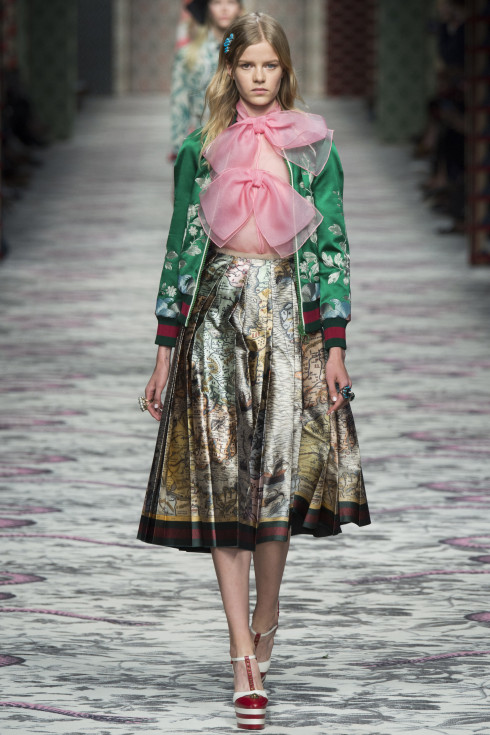 Have you got any of the above already in your wardrobe, or any close relations? A Pussy Bow, a Bomber Jacket, a floral dress or a geometrically patterned shirt and whether we admit it or not, a cardi? Well put them on! Not all at once, but nearly. You have so much leeway with all the looks that themodeledit.com has selected for you. Expose or enclose. They are ultra feminine suggestions, not prescriptions. I'm going for midi floral and a cashmere cardi, because I like a swirl about me. You may prefer the skirt option, where you can highlight your waist or if you choose the dress, you could flaunt your cleavage ( lucky!!). Shop your wardrobe and then the high street.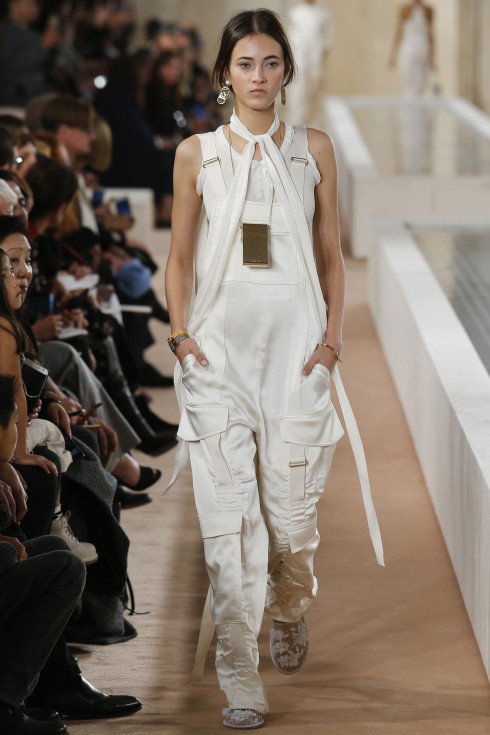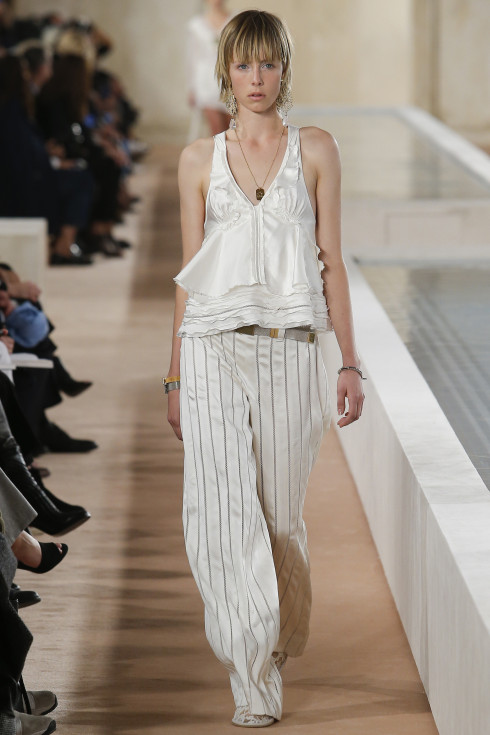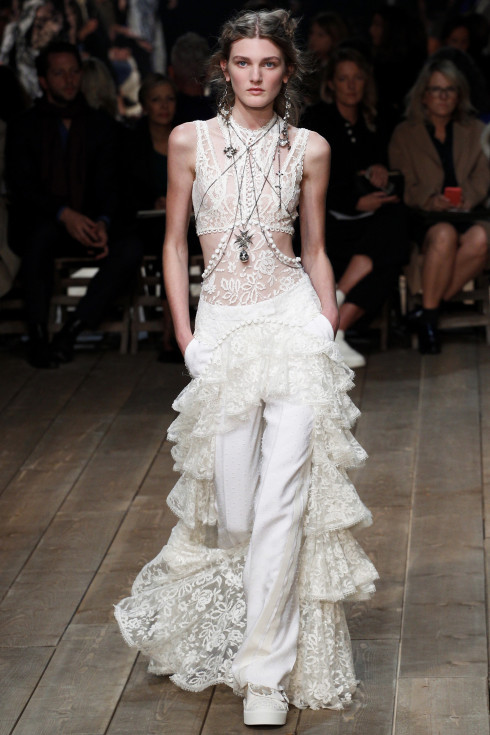 Here are the bedtime 'nightie' variations with a jumpsuit thrown in, because they're still right in there with the style secrets for this season. Silk, denim, striped or floral jumpsuits and 'come to bed' seductions are up for grabs. Please edit, add and jigsaw in what you have already, and what you might fancy spending some money on. Update where necessary to be on it and in it, this season. Don't we all have a few white clothes? It is a colour ( because Mrs V says so), and it's entirely on trend this S/S 2016 and Mummy will be pleased as Persil whites are due another whirl around the fashion circuit.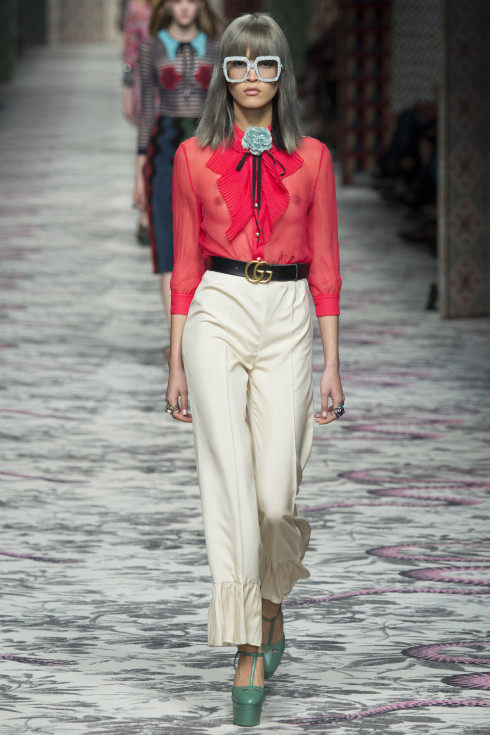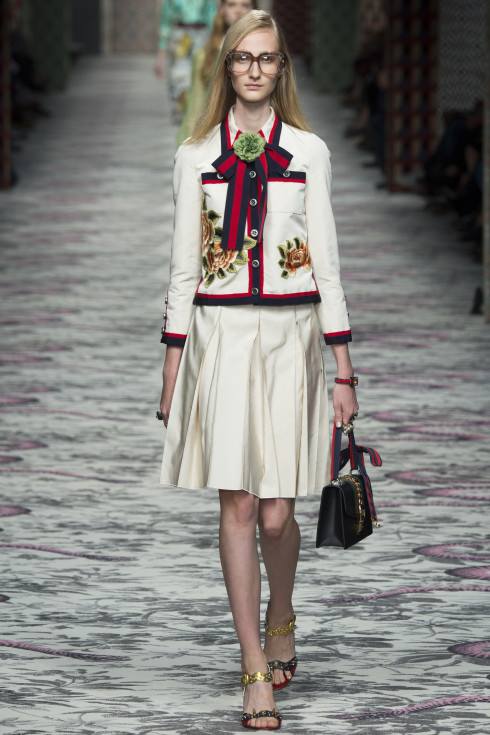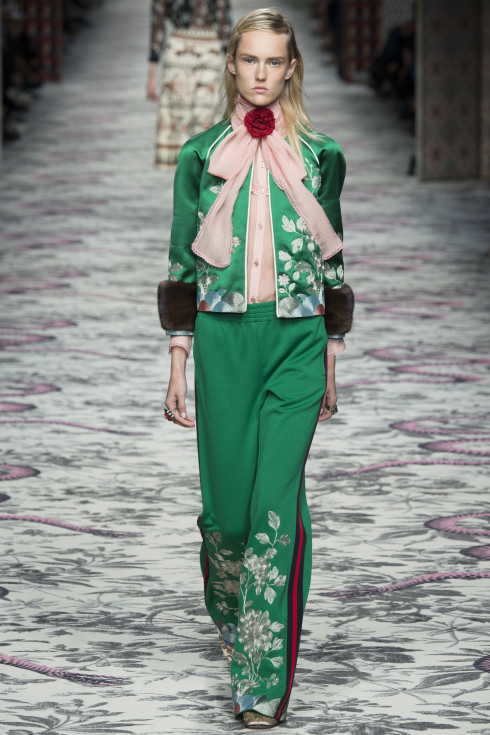 Together or alone. The whole tailored suit shebang, or a nod to tracksuits and the kick of a pussy Bow shirt baring all below it. So many components to get you through the Spring Summer 2016 Ready To Wear style portal. I've used Balenciaga, Gucci, Vetements, Marc Jacobs, Marques Almeida, Celine and Prada, and would wear all or something of the featured looks. I love the super sexy transparence of Gucci and Balenciaga, the ripped and frayed subversive Denim from Marques Almeida, but my go to collection would be Prada, with their stripes, transparents, geometric knitwear and most of all bauble earrings in stupendously comforting colours. I've had lightbulb moments shining into the shadowy graveyard known as 'back of the wardrobe'. Distressed denim get on my legs and old flowery midi dress come into the light…!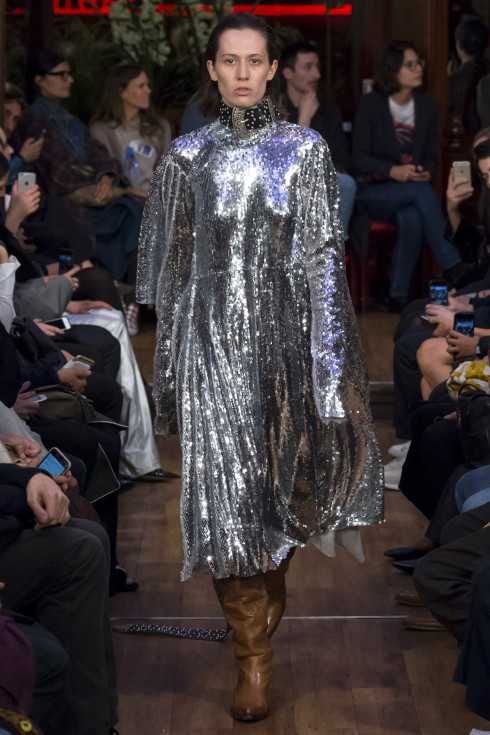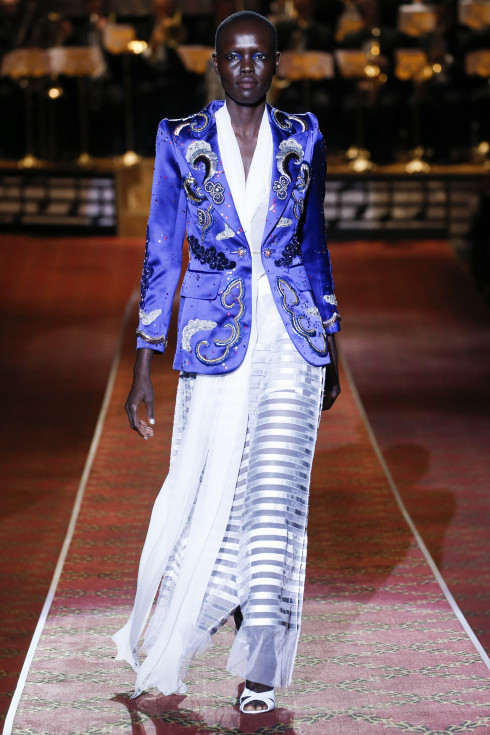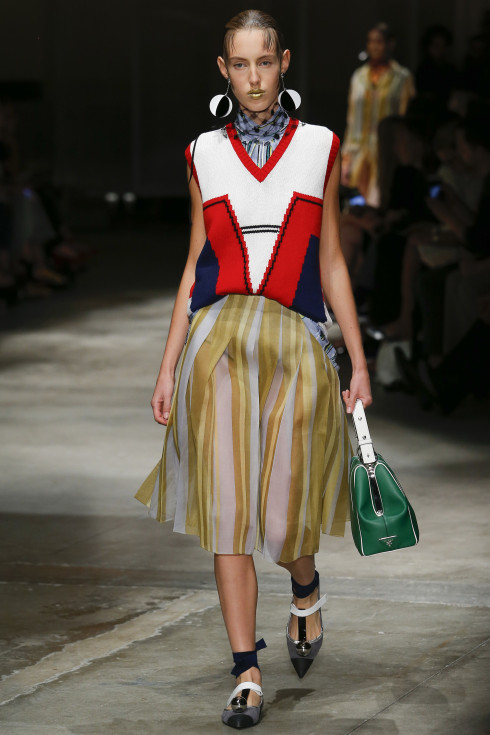 Lastly, for your extremist fashion tendencies, I lay before you, sequins, stripes and 'see through' clothing. Also, for all you Rock Chicks, slide on your satin, T Rex tribute jacket. All current Catwalk currency.
Here's the thing, you have no excuses because it's all filtering onto the high street very quickly. It's a shorter walk to your wardrobe and I'll bet you'll find your invitation to this season's fashion fiesta hanging out in there. You'll be fine, it's a pick and mix.