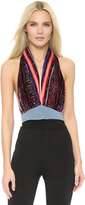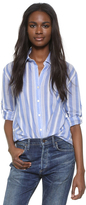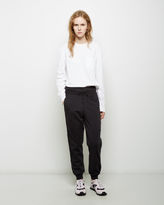 Here is my current wheeze, which creates a fabulous synergy between wardrobe and wallet. Here's the thing, when you shop the sales scrutinise what you can currently purchase that could potentially be a compadre to your winter look. There are so many hybrid items out there at fabulously discounted prices and Mrs V sees no sense at all in clutching on to the last straws of summer clothing, but would rather invest in items that cross the not so great season/climate divide.
Starting with the halter neck top and proceeding in a clockwise direction, these items are perfect examples of winter wardrobe accoutrements;
Rodarte Paisley Halterneck Top  There are a few variations on this theme. My point is that under an evening jacket this is going to seriously take some beating.
Public School Sweatpants  Athleisure is dug in, will transcend seasons and encompasses the 24 hour clock. Try out for the team.
Young Fabulous & Broke  Trending from now onwards until further notice, is the striped shirt tucked in loosely and asymmetrically .
It's a bit exhilarating at least here at The Model Edit headquarters, to experience the thrill of the chase and purchase a frill and some lace and not at naughty prices.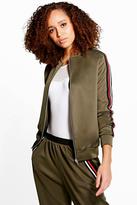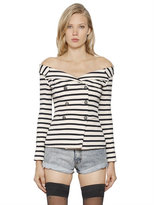 Here are more massively acceptable, trending, cross fertilising fashion crop items.
Raga Long Sleeve Maxi Dress How nice will this look with ankle boots and a chunky boyfriend cardi? It's a bit Alexa Chung isn't it?
Boohoo Isobel Stripe Sleeve Bomber This is your trend catalyst. It is currently on sale at £8. Don't bother reading the rest, click the link.
Faith Connexion Off Shoulder Striped Jacket This is as versatile as the day and night is long. Jeans, Palazzo pants, any kind of flowing or pleated skirt and for my money, sweatpants. There I said it. Marry that Athleisure look with just about anything and then go just about anywhere.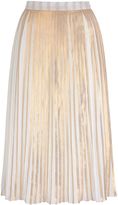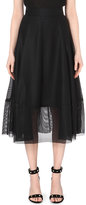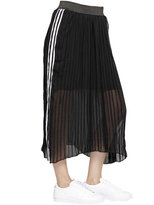 Bringing up, and hiding and poss highlighting our rears;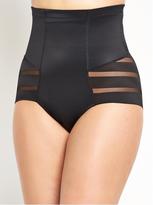 Intimates Control Stripe Mesh No VPL Waist Nipper Just the very title…But (t) It's quite bondage isn't it? I present you with choices, not judgements.
Yumi by Lilah Gold Strip[e Print Pleated Skirt It's a very fancy item. Trainers or boots, all good. Click on the link, the price won't disappoint.
Maje Johana Mesh Skirt It's a very subtle Tutu- like creature, it's a risk worth taking.
Adidas Plisse Skirt You may well want to thump me, but it's Athleisure. Any hour of the day…
Derek Lam Wide Leg Tuxedo Pants Probably should be left in a time capsule for future generations to discover 'who was wearing what' circa 2016.
My indoctrination this time has hopefully been; Shop now for then, and big up to the Rio Olympics because if you're not competing on the track, you could definitely be competing in all social situations inc. your sofa. Athleisure is pretty definitely us. Be on my team.