Quick precis of my how my Christmas Wish List's Parts 1 and 2, performed.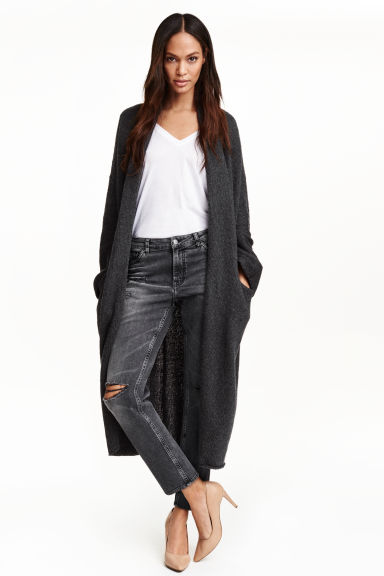 I am now in possession of the very lovely Zara asymmetric earrings, I have a firm promise of the Tiffany and Co, ring, for my upcoming birthday on February 12th, and I'm just about to press 'purchase' on my TOPSHOP silver chelsea boots. A very solid 50% success rate on my first attempt at a public Christmas Present List.  My top random Christmas gifts that I didn't know I wanted until I got them were, a very tiny sparkly knit Boohoo tank top, new knee high black sheepskin boot slippers from Celtic and Co, my last pair lasted 4 years and I just love, love them, a very huge boyfriend cardi from H&M in a gorgeous and practical anthracite grey, a' classic con twist' camel coloured detachable lining trench coat from the Ines de la Fressange collaboration from Uniqlo ( which my lovelies is now no longer available anywhere apart from my wardrobe), and a lovely little flounce of a Brandy Melville T, in black. Always hits the spot.
Baby #1 bought me a very cool lipstick from a company called LA Splash, and now has added the shade 'Ghoulish' to my lipstick palette, nestling nicely next to 'Growl'. Teenage daughters are the best, best beauty researchers! Lastly is a book called My Brilliant Friend of which I have read two pages this morning, and wasn't stupified so it's looking promising. I'll keep you posted on my page turning progress in my  'Lifestyle' category. I love the title, hope that I'll love the book as it's part of a trilogy, and the cover is a bit freaky which is all good.
My mother got the  L'Occitane Shea Butter Hand Cream and shouted quite a lot about how lovely it was and how fab it made her hands feel. To the victor, the spoils, I suppose. Anyway I love all my gifts for lots of different and exciting reasons, such as the fabulous, sparkly Boohoo Tank top from the 'Petite' range (which as it turns out, is an important fact) given to me by Baby #3, it fits like a top worn on a porn channel that doesn't quite manage to cover the bottom half of my boobs. You know the look… I apologise in advance.
To everyone that loves me enough to spend time and pocket money on selecting my Christmas gift, I am truly thankful, because each and every one is incredibly special.
You all kept the receipts right?