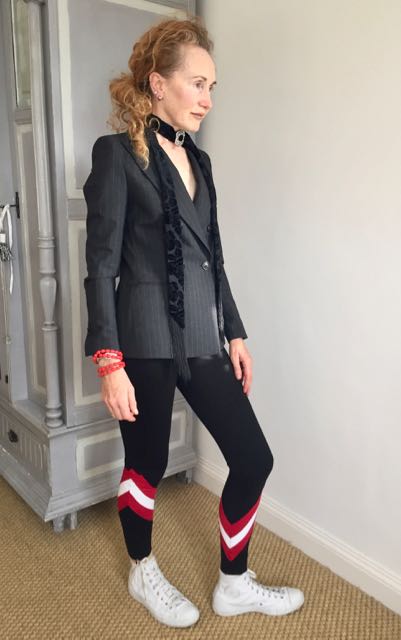 Carine Roitfeld for Uniqlo Double Breasted Wool Blended Grey Pinstriped Jacket £69
Urban Outfitters Chevron Leggings. No longer available because I didn't get my sorry arse in them quick enough to get them photographed to get them to your inbox. There, I've said it.
Moving right along though, aren't leggings tight trousers? what is the difference between skinny jeans and leggings? Don't say that jeans have pockets, zip fastenings etc. because so do the fabulous Kenzo  H&M leggings shown below. In the winter Mrs V can think of nothing worse than cold denim flapping around the legs. Praise be to the person that kick started the Athleisure trend. I was slopping around in anything with a  drawstring waist and a tailored jacket years ago.  At least now I've been recognised for my visionary approach to style, in my lifetime. Lol. Imagine my soothsaying style statements all coming good at once, how happy are you for me? My Wardrobe runneth over. Gym gear in my wardrobe and not purely consigned to my gym bag. My happy place will be when I have you all luxuriating in leggings, comfortable and totally on trend. Jog down to the Mall, stretch towards the rails and lunge back home again…and relax. Next worry. Are  leggings acceptable in polite society?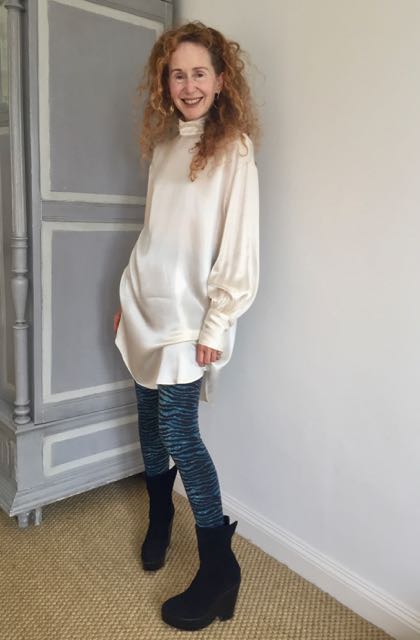 Kenzo for H&M Wool Leggings £29.99
Yes they are because there is no limit to the way you present yourself in them. Although they may be the outfit catalyst, they truly may be the single least expensive component of it. How nice is that? Your hands and credit cards are free to invest in many other key pieces that will have starring roles in other wardrobe productions that you are mounting this season.BTW I was a little concerned that by wearing this Satin Tunic I'd look like I'd joined the brotherhood. Turned out I felt bloody marvellous in it and totally intend to wear it with a chain belt and lacy or fishnet tights at the first available opportunity.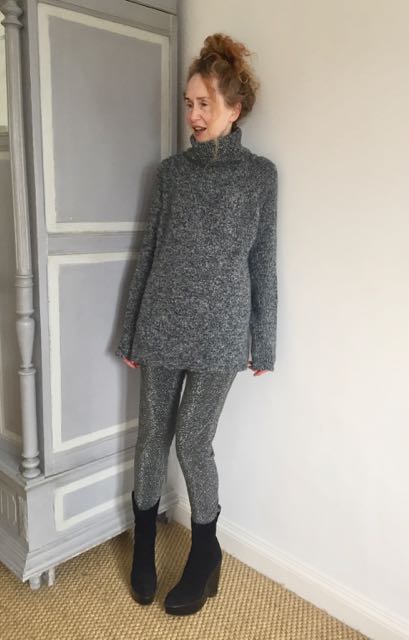 Urban Outfitters Slouchy Turtleneck Jumper £49
H&M Glittery Leggings  £14.99 (or are they trousers?)
Look at me all warm and scintillating. Gorgeous grey marl Urban Outfitters jumper seemed to have morphed into appearance of also being sparkly, but it's not. Truly girls, where aren't I going like this? Style secret here is buy the things big and they're trousers, buy them a size smaller and they're leggings. Obs I've got a fab little camisole top  underneath this, so when it gets to the erection section of the evening, I'm good to go. Make way on the podium and start a 'Love Train'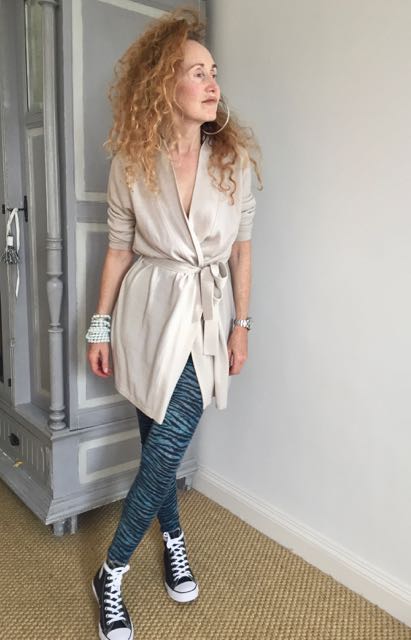 Kettlewell Sasha Belted Cardi £95
This outfit has no itchy scratchy pointy corners, no cold metal bits and it's so easy to combine. Boyfriend/Your friend Cardis. Yum, yum, yum.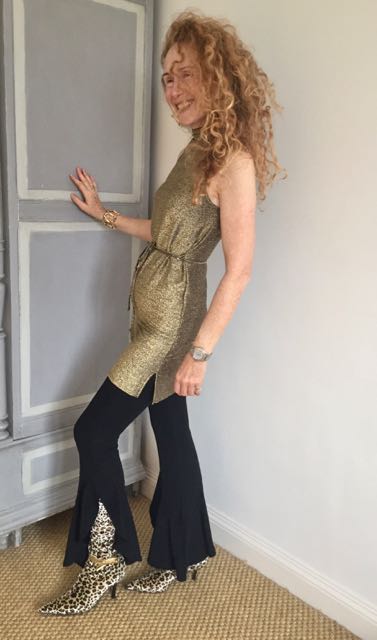 Zara Frilled Hem Trousers £17.99
Topshop Tunic Sale Item £5 ( now only available in your dreams)
I feel as though I have actually invented the wheel. I have developed a second skin and it's called Leggings. If you are not sure about this, I am. There is a pair out there with your name and number on it. Can anyone tell me that with a bit of styling bravery, you haven't got at least one thing in your wardrobe that can be worn with leggings?  Shoes and accessories, should remain on red alert until you've picked a destination.  Could there be any better style suggestion for a current trend crush that supplies warmth, versatility and choice?
Hide your bums and highlight your ankles, or vice versa.