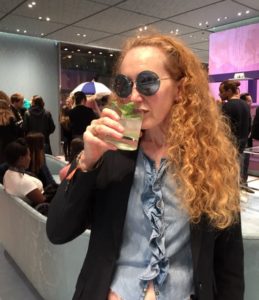 Altruistically and totally with your style successes in mind, Mrs V has been out and about in town at style centric  events in the name of research. Wearing not her party dress, but her party pants. It's nice to be chauffeured from door to door but if Parker's left you Lady Penelope, to go out partying on his own, what's a girl to wear that will get her there? Pants, trousers, trousers, pants whichever way you say it, they do have the appeal of warmth, ease of movement and are nice little items to warm up or cool down when you get where you're going. What I mean is a great big woolly jumper can hide a lacy camisole and can be whipped off as a big reveal. Not so with your strappy cocktail dress. You've committed for cooler for warmer.
Mrs V was at the Miu Miu cocktail party at their Bond Street Store. The S/S 2017 collection was on show and it was fab to see, touch and wear ( see sunglasses above) some of the collection. I was wearing a navy blue pinstriped trouser suit that I had handmade in Kathmandu. I want you all to go there and have one made too. Lol. Point is, you need a suit. Simple as. At this late stage my advice is get your credit cards to manual at the start of the sales and don't skimp on the suit. Buy the best the sales can offer, you'll be bagging a wardrobe requisite. Ignore me at your peril on this matter.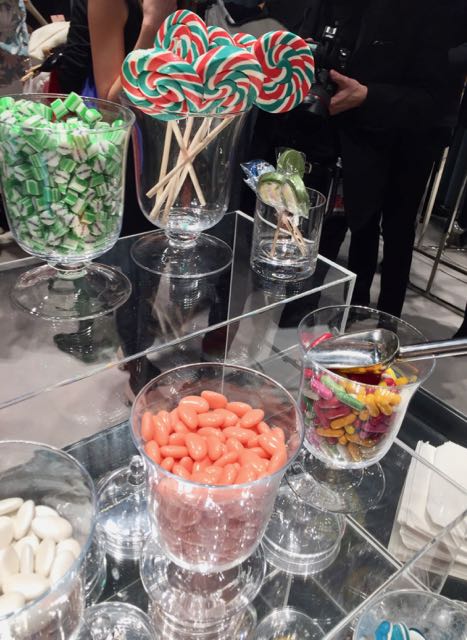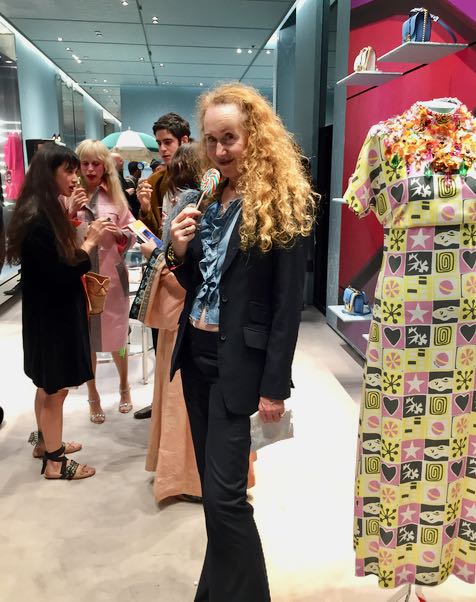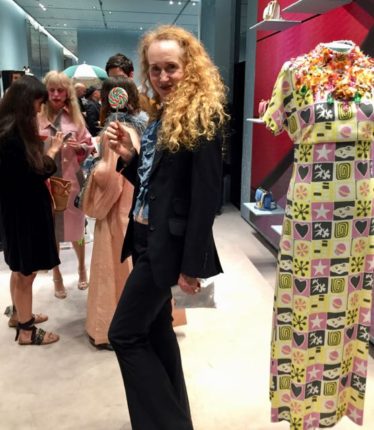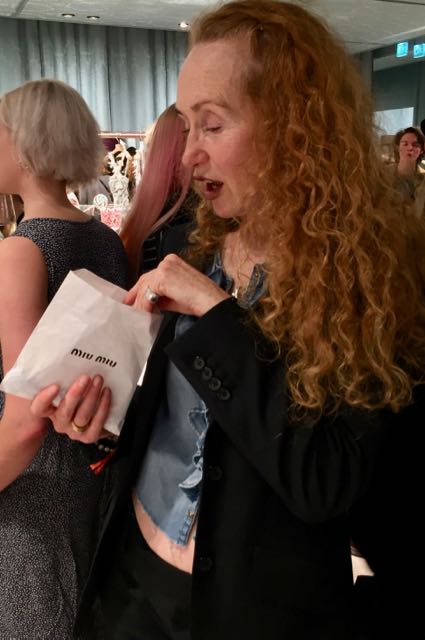 Miu Miu, fascinatingly individual looking people, stylish people and celebrities, all treats and delights for a tiny blogger. Got very over excited, cornered the Candy Bar and ate so many sweeties and felt just a tiny bit sick on voyage home. So worth it!
Look at these fabulous feathery and furry and superbly hip components of Miu Miu S/S 2017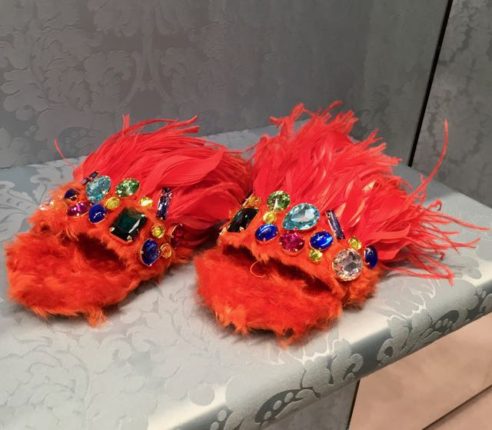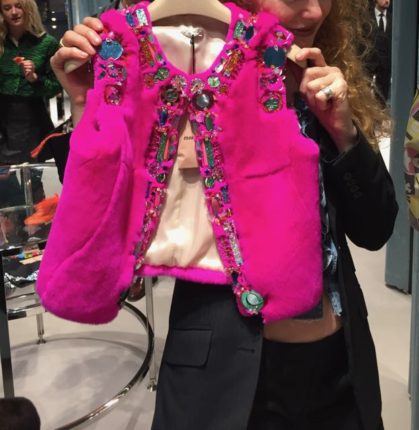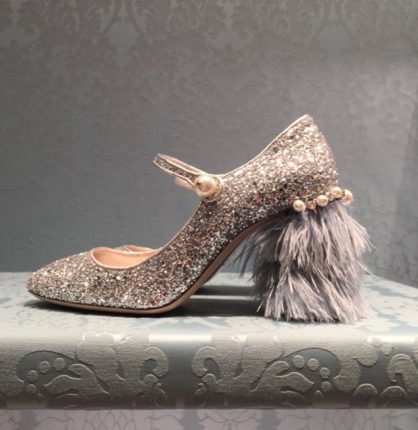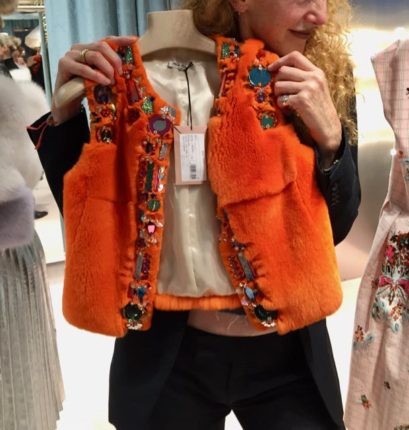 What incredible fun to be had next season. Grab a feathery thing and wear it wantonly and with conviction. This is a great insider's view and still within the last orders for Christmas delivery period. Get scrolling down a few fashion websites and see what feathery look will tickle your fancy. Get on it now and be way ahead of the pack. I've pinned you down and extolled my theories. Who will take me up on them? Look at my next venue, which couldn't be more diametrically opposed to Bond street…Invitarama!!! Am at Hoxton Basement for the launch party of a new magazine, in which I feature called Hard Ears, It is, as put by Ronan Mckenzie, the British photographer and creative who founded the publication – working alongside one of her oldest friends, student and graphic designer Ruby Boddington – a coffee table book which should appeal to anyone who has an eye for visuals. I love Ronan for her vision, bravery and ability . The Hoxton Basement was full of her supporters and every last one was beautiful, stylish, edgy and so, so diverse. My daughters also came and were enchanted and embraced. More of this in 2017 please.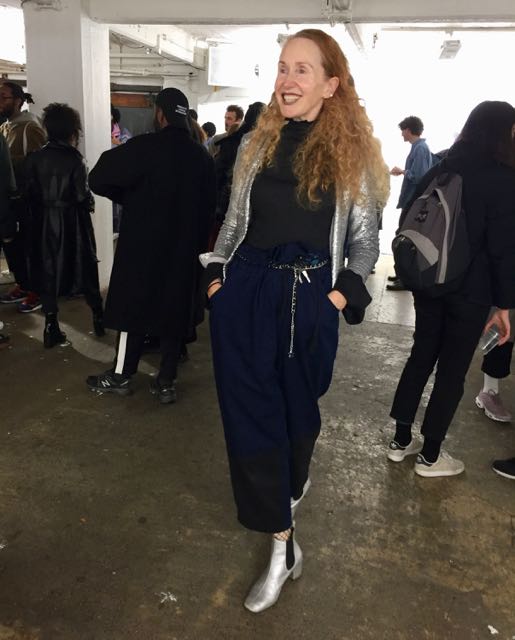 Mrs V wearing super flappy wide legged and even wider waisted trousers from Monki. These actual ones, whilst bought this season were a bit niche and now no longer available but I've linked you a pair that will comport themselves as nicely as these do and they're material style saviour this season, velvet. Got 100,000,000 compliments on them, what are you waiting for? Mango  silver metallic biker jacket, which I warned you about at the time. If you took no notice then, well I can't help you now. It's sold out! Top shop silver ankle boots, probs best style buy of the year for their on trend-versatility-admired and commented on, ratios. I've linked you Topshop's current silver ankle boot offering. Couldn't give you a finer style tip. Buy'em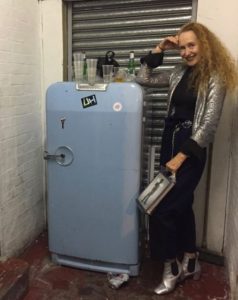 At going home time, flushed with late night invincibility, thought I'd look nice next to this random but pretty Fridge. You decide…