Here is my Christmas Stocking, part 1.
The reason that I've chosen the 2 Alexander McQueen outfits apart from the fact that they're so pretty, is that they are so versatile. Every day in my imaginary life, where no mud, chickens, dogs, ponies etc are involved, I'm wearing the trouser suit as 2 separate pieces as well as the prescribed version. Ok, I may wear it with more than a chain necklace and attitude, but if you'll invite me, I shall arrive wearing it, and if more occasions merited it and in most of my ideal world existed, you'd see me wearing the like and its mates v frequently. On my feet will be a rota of shoes, high, flat open, closed. The jacket will wrap around my skinny jeans and the trousers will show of my James Perse or Brandy Melville T's a treat. I'll work on my abs, as I'm not one to hide in the corner.
The skirt/ jacket combo is genius. Frills? I'm a fan, tight, floaty, in dress form or as a skirt, all do-able. Military nods, salutes and parades, I'm there. You can definitely rummage around with this look. What's not to wear with a military jacket, beautifully cut?. It's my absolute favourite 2 for 1! Summer dresses, jeans, palazzo pyjama pants, all waiting to make friends with a good jacket. Sexy and androgynous. Quite a pleaser in my book.
Here with the designer bed wear look, again, all permission granted thanks to Celine S/S 2016. I'm loving the naughty permissive catwalk behaviour. Assimilate and adapt. Go as far as your comfort zone and inner strumpet allows.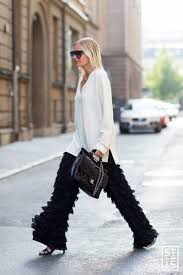 Find your frilly! Celine is egging us on. It's so pretty and it's breaking into daylight hours. Reveal or cover up. Consolidate an asset or blur around any unsightly edges ( really, do we have any???).
Obviously I live on a cloud where I have unlimited access to the pot of gold at the rainbow's end that adjoins my cloud… What I am prevailing on you all to think about is the juxtaposition of style that next year's trends are donating to your wardrobe. You, for sure have some of the necessary components for parts of these looks. As with all of my insights, pointers, opinions and ideas they are only there to suggest and provoke, the choice is ultimately always yours. However, it does excite me to think that a minuscule amount of reading my blog, could take you quite a distance on your style journey.